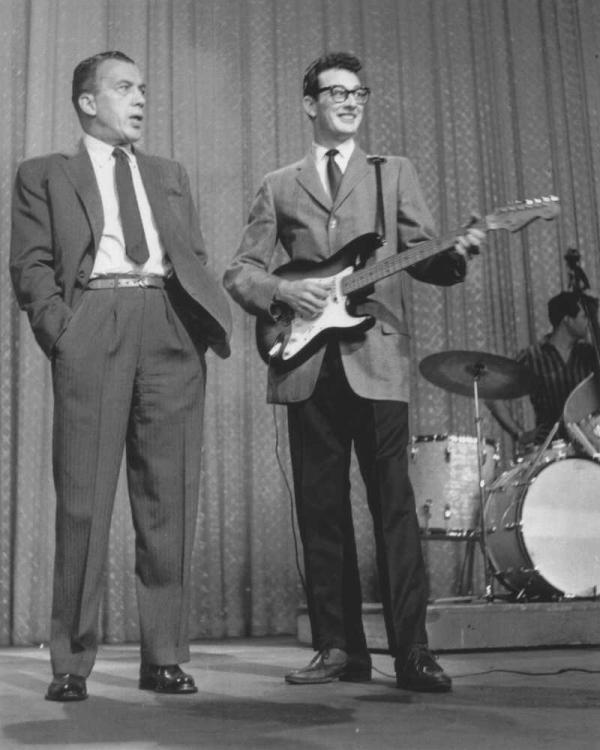 T  -  U
Buddy Originals And Songs He Made More Famous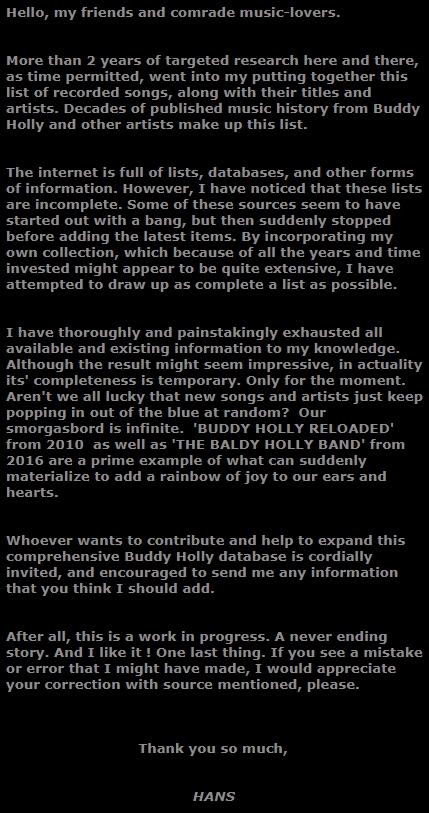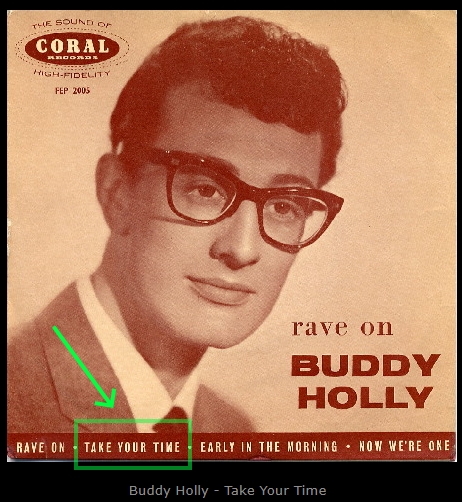 T A K E    Y O U R    T I M E
Ab Daalmeyer

Albert Lee & Hogan's Heroes (Tear It Up, Heroic 0001), 2002

Albert Lee & Hogan's Heroes (Live in Paris), Dec 1, 2003

Billy Hancock

The Blue Stars (Instrumental)

Carolyn Hester 
(June 6 and 7, 1958 - Norman Petty Studios - Carolyn Hester, vocal and guitar; Buddy Holly, guitar; George Atwood, bass; (poss.) Jerry Allison percussion) 22 - Various Artists - Take Your Time ROLLERCOASTER CD RCCD 6031. 

The Crown Imperials

David Bartholomew (Rec. at Academy Studios Colchester England)

Denny Laine with Paul & Linda McCartney (Holly Days), 1977

Dick Rivers

Fray (Listen to me Buddy Holly, Verve), 2011

The Head Cat, 27 June, 2006

The Hollies, (Would You Believe?, Parlophone/EMI), 1966

The Hollies (Buddy Holly), 1980

The Hollies (Polydor Single 2059280), 1980

The Hollies (The Clarke, Hicks & Nash Years, 6 CD Box Set), Remastered 1998, Audio CD (6. May 2011): Parlophone Label Group (Plg) (Warner): 399 Minutes, ASIN: B004QJL4D8

Joe Langsford

Lemmy, Slim Jim & Danny B., (later released as The Head Cat), March 2000

Pilot (Negram Records), NL, 1975

Runaway Express (Medley: Look At Me - Take Your Time), (Yeah, Buddy!), Raven Records, 2000

Sundance (Mary Hopkin, Mike Hurst & Michael De Albuquerque)

Ted & The Tall Tops (Everyday is a Holly Day), 1989

Tobin Mathews

Tommy Allsup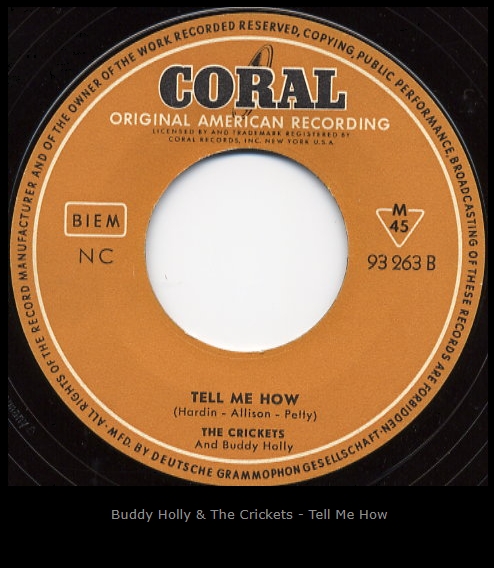 Betty Midigan

Betty Morgan

Big Problem Rockers

The Blue Stars (Instrumental)

Bobby Vee

Bobby Vee, Rollercoaster Records, UK 2000

Chas & J. I., Chas Hodges & Jerry Allison

The Crickets (The Buddy Holly Song Book), 1992

The Crickets (Live Hard Rock Cafe, Stockholm, Sweden), 1989

Deke Dickerson

DJ Buddy Holly 2016 (CD NOT FADE AWAY)

The Duke Robillard Band

The Hollies (Buddy Holly), 1980

Johnny & The Roccos

The Kennedys

Kris Ryan (Mercury Single MF877)

Lemmy, Slim Jim & Danny B. (later released as The Head Cat)

The Locomotions

Matchbox (Matchbox), 1979

Midnight Howlers

Mike Berry

Mike Berry (Buddy Holly - A Life in Music), 1999

Nanci Griffith, Elektra, 1999

Nanci Griffith & The Crickets

Peter & Gordon

Rock-A-Doodle-Doo

Runaway Express (Medley. That's What They Say - Tell Me How), (Yeah, Buddy!), Raven Records, USA 2000

Terry Farlan (Million Copy Hit Songs Made Famous By Buddy Holly – Boulevard), 1969

Terry Farlan, UK Hallmark, 1969

Terry Gale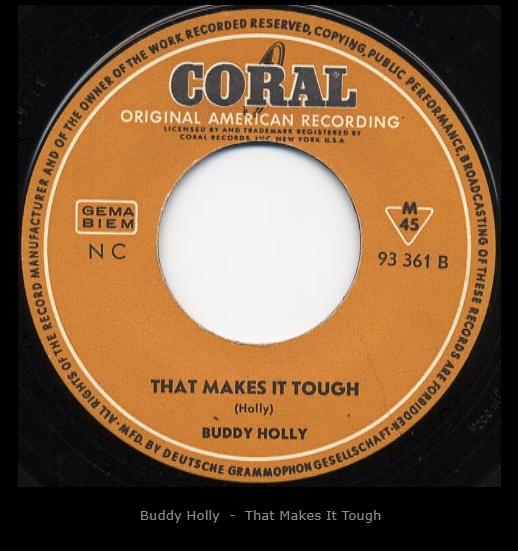 THAT   MAKES   IT   TOUGH
Blind Faith

"The Crickets Sound" Project (22), UK

The Lazy Cowgirls (Broken Hearted On Valentines Day)

Matlock

Nanette Workman (On S'Prend Des Claques – Holly Days, EMI France), 1998

Sherry Holley & Holley Family (Holley's House 2)

Terry Noland

Texas Mike Bell (For The Love of Buddy), 2004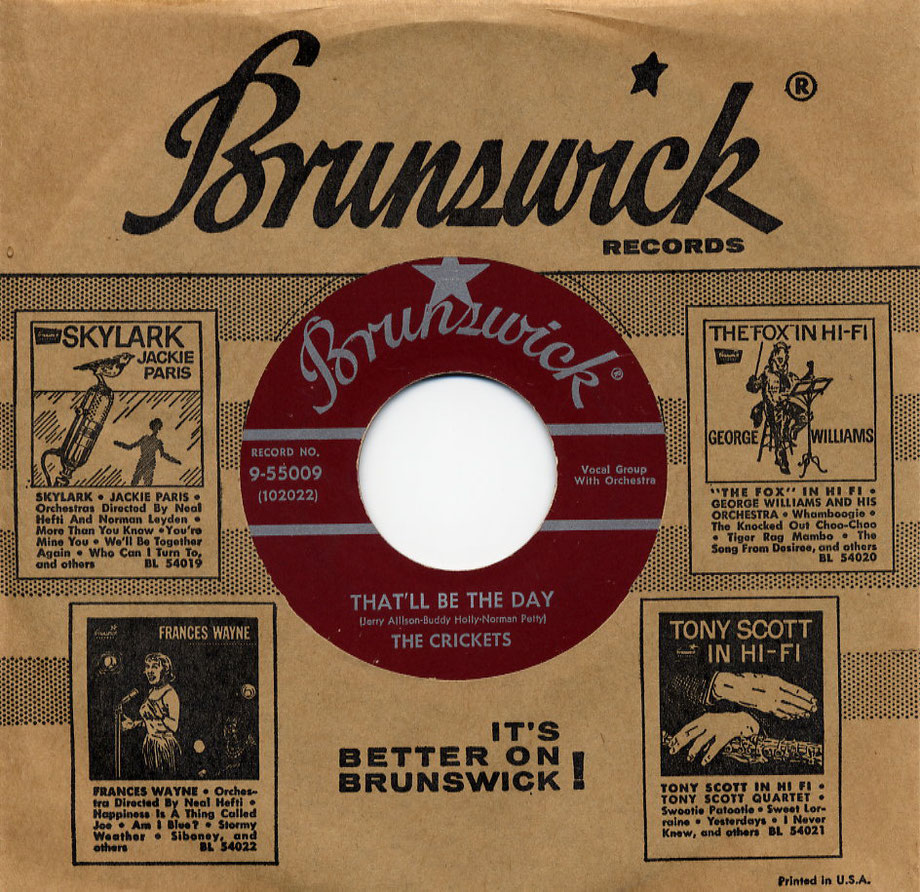 The Allisons

Artie Malvin & The Zig Zags, 1958

Art Sutter

AVID All Stars

Baldemar Huerta con Los Romanceros (ESE SERA EL DIA – Falcon 45717, USA)

Barney Kessel (Verve V.5041)

Barry Goldberg Blues Band

The Beatles (The Quarrymen), 1958 

The Beatles (as the Quarrymen) Short Version (Beatles Anthology), 1995

The Beatles (as the Quarrymen) Long Version (Beatles Anthology), 1995

The Bluejays (The Buddy Holly EP), JAY 5009, UK, 2017

Bill Garachty

The Black Devils, Arc.

Blackmore's Night (live 1997)

The Blue Diamonds, 1993

Bluez Geek

Bobby Brown & The Curios (Medley: Peggy Sue - Maybe Baby - Oh Boy - That'll Be The Day)

Bobby Vee

Bobby Vee & The Shadows, 1960

Bobby Vee (I Remember Buddy Holly), Liberty, 1963

Bobby Vinton

Bob Dylan & Paul Simon

Bo Katzman (Campfire)

Bo Katzman & The Soul Cats

Brand New Rockers

Brothers

BUDDY Broadway Cast

"Buddy" Das Buddy Holly Musical – Essen, Germany, 2009

Buddy Holly Reloaded, Germany, March 1, 2010

Buddy Holly Rock'n'Roll Show live in concert, Germany, 2005

"Buddy Holly and The Cricketers" (live), 2007

Buddy Live London (First Night Rec.), Nov. 3 & 4 1995

Buddy Presley Band, UK

BUDDY South Africa Cast

Buddy & The Cruisers (Our Favourite Songs, Vol. 1), Germany

The Bunch, A&M, 1972

Carlos Segarra, AZ, 2000

Chas & Dave (Medley: Oh Boy - Think It Over - That'll Be The Day and 3 other none Buddy songs)

Chuck Williams & The Fire Band (Songs of Buddy Holly)

Chris Andrews (Medley: Oh Boy - Rave On - Heartbeat - That'll Be The Day - Not Fade Away)

Claudia Phillips and friends (J'Veux Pas Voir Le Jour – Holly Days, EMI France), 1998

Cliff Hall (Instrumental)

Cliff Richard (live)

Cliff Richard (Medley), (Cliff and the Drifters), 1959

Cliff Richard ( "The Definitive Rock & Roll Album", EVA/EMI 0777 7  8044 1 2 3)

The Collins Kids (Live Western Ranch Party)

Come Back Buddy Band (A White Sport Coat CD), 2009

Connie Francis (With love to Buddy), 1996

Conny Quick (Immer mehr und mehr, Philips EP 423226 PE 1957, CD Rock in Germany, BCD16225) Text in German

Country Sisters 

The Corvairs

Craig Morrison & Friends, February 6, 2009

The Crickets, Barnaby (USA) - CBS (UK), 1970

The Crickets

The Crickets (Live Medley: That'll Be The Day - Maybe Baby - Everyday - Keep A Knockin' - Well . . . All Right - Oh Boy)

The Crickets (Live Hard Rock Cafe, Stockholm, Sweden), 1989

"The Crickets Sound" Project (22), UK

Crossfires

The Crown Imperials

Cut-Loose

Cy Payne (Instrumental)

Daddy Cool

Daniel O'Donnell, DMG, 2004

Dave Nichols & The Coins

Dave Remington

Dave Travis

David Bartholomew (Man of the World), UK, Sept 2008

David Essex & John Denver (Live Medley: That'll Be The Day - Everyday - Slippin' And Slidin' - Peggy Sue)

Deep Purple

The Delltones (Medley: That'll Be The Day and 5 none Buddy songs)

Diamond Jym (Lucifer 202A, USA)

Die Campbells

Dillard Hartford Dillard

Dixie Aces

Donnie Allison

Eberhard Hohl (Tribute to Buddy Holly), Germany, Dec 2004

Eddie Scoop & The Peekers

Ed Payne ( CD - Paying Tribute To Buddy Holly by Ed Payne, 2013, Propayne Productions, EAN 08 8450 18441 3 0 )

The Esquires (Medley: Tribute To Buddy Holly - Peggy Sue - That'll Be The Day - Think It Over), Capitol, 1964

The Everly Brothers (Single Version), Warner Bros. 5611, 1965

The Everly Brothers (Album Version), Warner Bros., 1965

The Everly Brothers (The Buddy Holly Songbook), 1992 (Different Views), 1999

Fairport Convention (Live)

Familee, Negram (NL), (Medley: Peggy Sue - Heartbeat - Everyday - Words Of Love - That'll Be The Day - Oh Boy)

Fanfare, Chess, 1959

Fix – (OLLA VOIB)

Flamin' Groovies, 1977

Flash

Foghat (Bearsville BSV 0019)

Foghat (Bearsville Album ENERGIZED), 1974

The Four B's (Live, The Louisiana Hayride)

Francoise Hardy, Warner Bros., 1968

Freddie & The Dreamers (Medley: That'll Be The Day - Peggy Sue - It Doesn't Matter Anymore - Oh Boy)

Freddy Fender (Ése Será El Día)

Gary Busey (Buddy Holly Story Soundtrack) - (Medley: That'll Be The Day - Oh Boy - Peggy Sue - Maybe Baby - Not Fade Away), Epic SE 35412, 1978

Graham Sacher

The Grasshoppers

The Greek Fountains, Philips, 1965

Hank Marvin (Hank plays Holly), Polygram, 1996

Hans Edler

Helge Rune & The Stringers

Highlights from The BUDDY HOLLY  STORY (Retro Music, Canada), 1996

The Hollies (Buddy Holly), 1980

The Hollies (Medley: What To Do - That'll Be The Day)

The Holy Rocka Rollaz

The Hullaballoos

Jack Hansen Orchestra

Jack Richards (Broadway BR-2016-B)

J. Frank Wilson & The Cavaliers, Jubilee, 1964

Jeff Allen, Verve, 1957

Jerry Case, Tops, 1957

Jerry Palmer (Chattahoochee Records CH 676, USA), 1965

Jimmy Ricks

Joe Brown & Company (Hobby Horse Productions HHCD7275/90 / CD "Jack Good´s OH BOY!"), 2007

John Denver & David Essex (John Denver Show, Medley, BBC Live), 1973

John Hartford & The Dillards

John Lennon

Johnny Bee

Johnny Hallyday (QUAND CE JOUR VIENDRA), 1963

John Spencer (IK WEET WEL DAT JE LIEGT), Netherlands

JoJo

Josh Solomon & The Empty Pockets (Celebrate Buddy)

Jukebox Junction

Kansas City Kitties

Keith Richards

Keith Richards (Non studio recording)

Ken & Karol Craig That Will Be The Day)

Kenny Vernon (Capitol 3331)

KingMen (KingMen spielt Rock Cover & Rock 'n' Roll aus Lambsheim, seit 2008) - German Cover Band, YouTube Video)

Kikki Danielsson with Wizex (Kikkis bästa – Warner Bros. Records / Mariann Grammofon AB), February 27, 2008

Kingtinued
    
Larry Page

The La's

Linda Ronstadt (Asylum E-45340 – Mono and Stereo version)

Linda Ronstadt (Hasten down the wind, Asylum 53045), 1976

Linda Ronstadt (Listen to me Buddy Holly, Verve), 2011

Link Wray, 1961

The Lucky Cupids

Lynn Anderson, 2000

The Majestics

Marianne Faithfull

Mark Jansen (LP - Rock 'n Roll Tunes - Negram NY9 - Holland)

Marko Formanek

Marty Wendell (Live)

Massapequa Trio

Matlock

Merceles

Merle Haggard (CD "Remember Me", A Country Tribute To Buddy Holly), 2014

Michael Palmer (CD "Memories Of Buddy Holly), USA, 1997

Micky Dolenz (Buddy Holly Tribute, Romar Single 0-07-7002)

Mike Berry, 1974

Mike Berry (A tribute to Buddy Holly - Hallmark), 1995 

Mike Berry (Buddy Holly - A Life in Music), 1999

Mike Warner

Mitchell Dallman (24-11-2010)

Modest Mouse (Rave On Buddy Holly), 2011

Morning After

Mother Maybelle Carter & Family

Mystica

Nancy (NL)

Nate Jeager

New Jordal Swingers

Nigel Romley

One Way UK

Original Hamburg Cast (Buddy Die Buddy Holly Story), 1994

Original London Cast (Buddy, The Buddy Holly Story), 1989

Original Motion Picture Soundtrack (The Buddy Holly Story), 1978

Overboard (Castaways), 2008

Pat Boone, Agoom Agooc / Bel Canto, 1961

Paul and Barry Ryan (Two of a Kind – Decca LP LK4878), 1967

Paul Green

P. J. Proby

Poison Control Center

Pure Prairie League (If the Shoe Fits), 1976

Pure Prairie League (RCA Single PB-10679), 1976 (Mono and Stereo version)

Pure Prairie League (live)

The Q-Tees with the Jazzmen (Viking V.66-2, Australia)

The Rattles, 1994

The Ravens (Argo 8537), 1957

The Ravens (Argo 5276), 1957

Rene Simard

The Rockabilly Broadway Cast

Rock-A-Doodle-Doo

Rock 'n' Rollers

Rockin' Devils (2nd Medley: Tribute To Buddy Holly - That'l Be The Day - Peggy Sue - Rave On - Tribute To Buddy Holly)

Rockin' Jo Jo

Los Rockies (Ése será el día) 

Rockwell T. James (Razzle K-6757, Australia), 1977

Rodney Crowell & The Crickets (The Crickets And Their Buddies), Sovereign Artists, 2004

Romantics (Live)

Runaway Express, (Yeah, Buddy!), Raven Records, USA 2000

Sam Levine & Friends (Instrumental)

Sammy y sus Estrellas (Ése será el día)

Sandy Denny & The Bunch

Sarah Theron (Medley: When Will I Be Loved - It's So Easy - That'll Be The Day)

Scott Baker (ScottyB)

Serge Nelson

The Silhouets

The Shanes

Sherry Holley (Looking Through Buddy's Eyes), Cloud Nine Records, USA

The Sidekicks

Skeeter Davis (Skeeter Davis sings Buddy Holly, RCA), 1967

Something Blue

Los Sonámbulos (Ése será el día)

Spencer Jordan

Steve Wright

Streetside

Studio Band

Studio Group

Super Country

Sureshots

Sven Ingvars -  'DAT KOMMER NOG EN DAG'

Tanja Berg, Jürgen Brinkmann, Uwe Grimm (Vocal) & Die Firestone-Band

Tasty Licks

Teddy Technik + Die Effekthascher – 'HEUTE IST DER TAG' (CD "Live"), 1978 Germany

Terry Farlan, UK Hallmark, 1969

Terry Gale

Terry Noland

Thunder - The Legend

Tommy Allsup, Reprise, 1965

Tommy Roe, ABC, 1968

Towa Carson (Det kommer nog en dag), RCA 1957

Trident (The Immortal Songs Of Buddy Holly)

The Tunettes, Embassy, 1957

Twinzer

Unknown ( probably Graham Sacher ), Deacon UK, 1971

Unknown Artist

Vic Corwin, Puccio, 1958

Waylon Jennings, feat. Jerry Allison and Sonny Curtis, 
produced by Duane Eddy, 1974

The Wieners (Just Like Buddy - HiHo Music HHS0802), 2008 NL

WILD (Paul Gallacher, Glenn Hallam, Hugh Robertson-Payne)

Willie Logan (The legend lives – Buddy Holly) - (Instrumental)

Wizex feat. Kikki Danielsson (Christmas Promo – Mariann Grammofon AB – PRO 305, Sida B), 1979

Wobse & Scholze

X-Ray Joe's Linkmen, 1986

Yesterday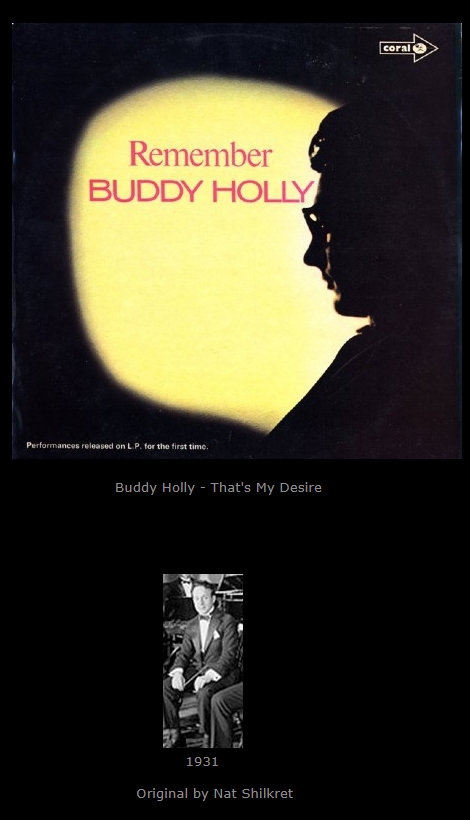 THAT'S   MY   DESIRE
( Original by Nat Shilkret, 1931 )
Ace Cannon (Instumental)

Al Martino

Art Mooney and his Orchestra (MGM Records 10020B), 1947

Belmonts (Cigars, Acapella, Candy)

Bertice Reading

Bill Farrell

Billy & The Vanguards 

Bob (Bobby Day) & Earl

Bobby Ridell

The Browns

Butanes, 1961

The Cats & The Fiddle, voc. Austin Powell (Manor Records 1064)

The Channels feat. Earl Lewis (Gone Records), 1957

The Chessmen

Chris Barber & Wendell Brunious

Chris Connor (Atlantic Records 2053), 1960

Chuck Alaimo Quartet, MGM, 1957

Chuck Berry (Single, ASCAP), 1959

Chuck Carbo and The Spiders (Imperial Records 5423), 1956

Cliff Richard

Clyde McPhatter

Come Back Buddy Band (A White Sport Coat CD), 2009

Connie Francis

The Crew Cuts

Deke & The Blazers (live Las Vegas), 2007

Del Vikings

Del-Mars, ABC, 1963

Dion & The Belmonts, 1959

Dion (Live)

Don Cornell

Donnie & The Del Chords, Lucky

Dorothy Dandridge

Earl Lewis & The Channels

Eddie Cochran (The Eddie Cochran Story)

Eddy Arnold

Ella Fitzgerald & Bob Haggart Orchestra (Decca Records 23866), 1947

Elvis Presley, 1956

The Encounters

Enoch Light (Instrumental)

Epics, 1962

The Exotics (Coral Records – Doo Wop), 1961

Ferlin Husky

Five Jades

Five Scamps

The Flamingos (Chance Records CH-1140), 1953

The Four Freshmen, 1952

Frankie Laine & Manny Klein's Orchestra (Mercury Records 5007), 1946

Frankie Laine (# 1, radio transcription), 1947

Frankie Laine (# 2), 1957

Frankie Laine (# 3), 1959 

Die Geschwister Pfister (Die = The)

Gene O'Quin

Gianni Russo

Gogi Grant

Golden Arrow Quartet, Continental, 1946

Hadda Brooks, 1947

Harmonaires

Helen Forrest

The Hollies, 1965

Jack Lidström & Hep Cats (Live), 1997

James Brown, 1969

James Moody (instr.)

Jerry Lee Lewis, 1956

Jim Reeves

Ken Slavin

The Keytones

The Knack

Lanny Ross, 1931 (Maybe the 1st one !)  More information needed !

The Lar-Kings (live – August 1997)

LaVern Baker

The Lettermen, 1961

Lionel Hampton (Instrumental)

Little Royal

The Londoners

Louis Armstrong (Vocal: Velma Midlleton), Live, 30-11-1947

Louis Armstrong (Decca Records 28105), 1947

Louis Armstrong & His All Stars, (Live), Vancouver, Canada, 26-01-1951

Louis Armstrong (re-recorded, Decca Records 28372), 1952

Louis Armstrong & His All-Stars, (Live), Barcelona, Spain, 1955

Louis Armstrong & The Dick Jacobs Orchestra, 1967

Louis Jordan

Louis Prima & Keely Smith, 1954

Lyn Cantrelle

Martha Tilton with The Dean Elliot Orchestra (Capitol Records 395), 1947

Meade Skelton

The Million Dollar Quartet, vocal by Jerry Lee Lewis, 1956

Mitchell Torok

Nat Shilkret and The Victor Orchestra (aka Ronald Sachs and his Orchestra – Timely Tunes Records C-1584), June 9, 1931

Nick Lucas & His Crooning Troubadours (Recorded 6-30-1931 New York), Brunswick 6147

Old Fashioners

Osaka Monaurail (Live)

Pat Boone 

Patsy Cline, Feb 13, 1962

Patsy Cline, Feb 13, 1962, (dubbed), June 30, 1980

Patsy Riggir

Paul Wheather

Paul Wheather (Live)

Peanuts Holland - Buck Clayton + Charlie Singleton (Instrumental)

Pee Wee Russell, Alex Welsh Band (Live)

Piano Red (Groove Records G-0145)

Piano Red (a.k.a. Dr. Feelgood), (Live)

Postmen

Randy Paige

The Retro Jazz Orchestra

Rocky Sharpe & The Razors

Ronnie Dove

Roomates (Live – Acapella)

Russell Wooding & His Grand Central Redcaps, 1931

Sammy Kaye & His Orchestra (RCA Victor 20-2251), 1946

Sammy Kaye & His Orchestra, featuring Don Cornell, 1947

Sammy Kaye & His Orchesra, Vocal: Billy Williams 

The Shadows

The Sherwoods

Skinnay Ennas & His Orchestra

Smokey Montgomery & The Lightcrust Doughboys (Instrumental)

Spiders w. Chuck Carbo, Imperial 5423, 1957

Steeples

Streetheart

Sugar Ray & The Bluetones

Tatsuro Yamashita

Ted Easton's Jazzband

The Tokens (live – acapella)

Tony Evans & His Orchestra

Tren Dells

Van Broussard

Woody Herman and his Orchestra (Columbia Records 37329), March 1947

Yvonne Baker & The Sensations, Argo 5412

The Zircons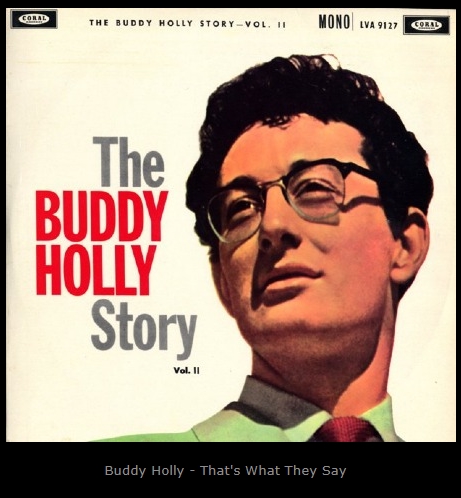 THAT'S   WHAT   THEY   SAY
The Blue Stars (Instrumental)

Claudia Phillips (C'Est Ce Qu'On Dit – Holly Days, EMI France), March 1998

"The Crickets Sound" Project (22), UK

Danny Angel & The Crescents, 1962

Dan Springall (YouTube Video)

Deke Dickerson & The Ecco-Fonics (YouTube Video)
RODEO BAR in NYC on Sept. 18 2012

Original Hamburg Cast (Buddy Die Buddy Holly Story), 1994

Runaway Express (Medley: That's What They Say - Tell Me How), (Yeah, Buddy!), Raven Records, USA, 2000

Terry Noland

The Trashmen (GET HIP Records, USA, GHAS-2)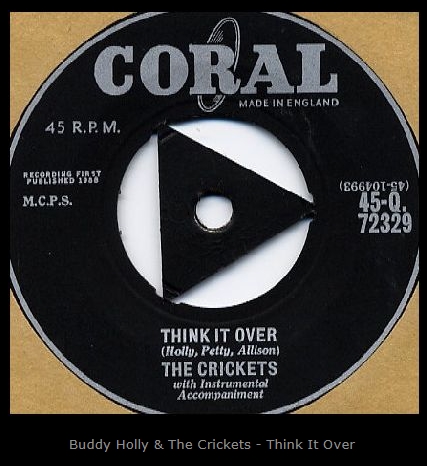 The Allisons

Billy Swan & Buzz Cason (CD - Billy, Buzz & The Basics Play Buddy) DINKS Records, USA, Released 16.12.2014

The Blue Stars (Instrumental)

Bobby Fuller Four (Memories of Buddy Holly), 1984

Bobby Fuller Four (live)

Bobby Vee, Liberty, 1963

Bobby Vee (I remember Buddy Holly),1963

The Bricats, Vampirella, 1999

Buddy In Concert - Yes Tonight Josephine - Live 2013, CD Germany

BUDDY South Africa Cast

Carl Dobkins, Jr.

Chas & Dave (Medley: Think It Over - That'll Be The Day and 3 other none Buddy songs)

Cliff Williams

Connie Francis (Medley: Think It Over - You've Got Love), (With love to Buddy), 1996

The Crickets (Medley: Everyday - Think It Over - Maybe Baby), CBS (UK), Barnaby (USA), 1970

"The Crickets Sound" Project (22), UK

Dave Hole

Dave Nichols & The Coins

David Bartholomew (Rec. at Academy Studios Colchester England)

The Deans (Medley: Peggy Sue - Rave On - Think It Over - Oh Boy - Peggy Sue)

Ed Payne ( CD - Paying Tribute To Buddy Holly by Ed Payne, 2013, Propayne Productions, EAN 08 8450 18441 3 0 )

The Esquires (Medley: Tribute to Buddy Holly - Peggy Sue - That'll Be The Day - Think It Over), Capitol, 1964

Flat Duo Jets

Graham Nash & The Crickets (The Crickets And Their Buddies), Sovereign Artists, 2004

The Hollies (Buddy Holly), 1980

Jerry Carlisle (International Records ZTSC-68414)

Jerry Naylor

Jimmy Fortune (CD "Remember Me"), 2014

Jimmy Gilmer & The Fireballs

Jimmy Gilmer (Buddy's Buddy, Dot), 1965

Jimmy Page, John Paul Jones, Albert Lee, Nicky Hopkins, Big Jim Sullivan, Clem Cattini & Chris Hughes 

Johnny Page & Albert Lee (Remember Buddy Holly)

Johnny Red

Johnny Rogers & Tommy Allsup (Johnny Rogers & Tommy Allsup)

Jukebox Junction

Keith Richards (Non studio recording)

Matchbox

Matlock

Micki Most & His Playboys

Mike Berry, 1976

Mike Berry (A tribute to Buddy Holly - Hallmark), 1995

Mike Berry (Buddy Holly - A Life in Music), 1999

Mike Berry, 2001

Mike Warner

Original London Cast (Buddy, The Buddy Holly Story), 1989

Paul Personne (Fais-Toi Nonne – Holly Days, EMI France), March 1998

Phil Ochs

Phil Ochs (Live Medley: Not Fade Away [1] - I'm Gonna Love You Too - Think It Over - Oh Boy - Everyday - It's So Easy - Not Fade away [2] ) 

P. J. Proby, 2003

Richard Anthony (french: Faut Que Tu Y Penses)

Ringo Starr (Listen to me Buddy Holly, Verve), 2011

Runaway Express (from the archives vol. 1), '80s

Runaway Express (Oh, Boy! – Raven Records), 2004

The Silhouets

Skeeter Davis (Skeeter Davis sings Buddy Holly, RCA), 1967

Something Blue

Steve Bonafel

Steve Wright

Steve Young (The Buddy Holly Song Book), 1992

The Stingin' Hornets, 1986

Teddy Hill (LP "That's Rock And Roll"), JAN Records 33-8010, 1980 

Terry Gale (Terry Gale sings Buddy Holly)

Tobin Matthews

Tommy Allsup

The Tractors (Not Fade Away, Decca), 1995
T I N G  -  A  -  L I N G
( Original by The Clovers )
( Composed by Ahmet Ertugun, Nugetre )
The DECCA Record shows the wrong composer !
Aaron Neville, 2013
The Accelerators

Baltimores 

Bob E. Rock

The Clovers, 1952

The Crickets, Coral, 1959

Dave Myers

Earl Sinks

Johnnie Fox & The Hunters - OI OI, 2014 

The Kingbees, 1980

Lonely Cats

Los Rockin' Johnny

The Scorpions, (Acetate LP), 1960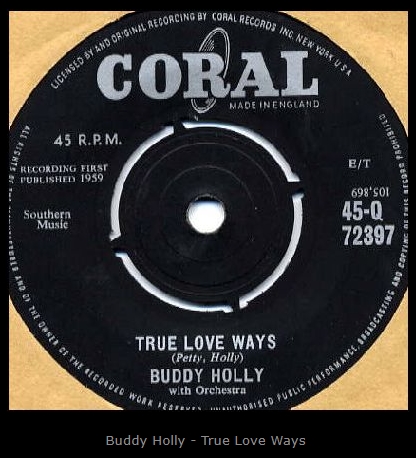 Aaron Watson

Alan Beck

Alan Price, 1980

Albert West

Allan Berman, AB, 2003

Amina (Nuits Presque Chine – Holly Days, EMI France), 03-1998

Amy Elvis Beth with Joey Welz

The Baldy Holly Band

Beth Godin

Blue Mountain Pan Pipe Ensemble (Instrumental)

The Blue Stars (Instrumental)

Bobby Vee (I Remember Buddy Holly), Liberty, 1963

Bob Gallarza

Bolland & Bolland

Brian Baule

Brian Conley

Brian Wilson 2012

BUDDY Broadway Cast

"Buddy" Das Buddy Holly Musical – Essen, 2009

Buddy Holly Reloaded, March 1, 2010

The Buddy Holly Story Soundtrack (Epic Single Mono 8-50581), 1978

Buddy Live London (First Night Rec.), Nov. 3 & 4 1995

BUDDY South Africa Cast

BUDDY South Africa Cast (Reprise)

Catharina Zeta Jones

The Charades (Instrumental)

Charlie Shaffer (Instrumental) - (Medley: True Love Ways - Raining In My Heart)

The Chevys

Cliff Richard with The London Philharmonic Orchestra, April 1983

Cliff Richard (Private Collection), 1987

Cliff Richard (Different Views), 1999

Cliff Richard ("The Whole Story - His Greatest Hits" – EMI Ltd. 7243 5 29322 2 1)

Cliff Richard (Live), Columbia

Buddy Come Back Band

Country Contrast

The Crickets, CBS (UK), Barnaby (USA), 1970

The Crickets

Crimson Ensemble (Instrumental)

The Crown Imperials

Darren Burn, 1973

Dave Hayward

Dave Nichols & The Coins

David Bartholomew (Rec. at Academy Studios Colchester England)

David Essex and Catherine Zeta-Jones, 1994

David Hasselhoff

David Ross

Dick Rivers

Dick Rivers (French)

Donnie Allison

Doris Day

Doug Soup

Ed Beerends & The Black Devils

Eddie Scoop & The Peekers

Ed Payne ( CD - Paying Tribute To Buddy Holly by Ed Payne, 2013, Propayne Productions, EAN 08 8450 18441 3 0 )

Elvis Costello (Such Unlikely Covers, Disc 2)

Emilio Guerro & Charro Band

Erasure, 27 January, 2003

Floyd Domino

Foster & Allen

Francoise Hardy, (French) CD, "It's A Teenager Dream", released 10th of June, 2016

Frank Ifield, Capitol, 1964

Freddie Star

Gareth Gates

Gary Busey (Buddy Holly Story Soundtrack), Epic SE 35412, 1978

George McGovern

Good Rockin' Tonight (Have You Heard The News?) (Ballads)

Graham BLVD (Version 1)

Graham BLVD (Version 2)

Grand & Forsythe

Hank Marvin (Hank plays Holly), Polygram, 1996

Highlights from The BUDDY HOLLY  STORY (Retro Music, Canada), 1996

Hot Rod Lincoln

Jackson Browne (Listen to me Buddy Holly, Verve), 2011

Jamie Reynolds

Jason Whited

Jeff Potter

Jeff Rasmussen

Jim Hendersy

Jimmy Fortune (CD "Remember Me"), 2014

Jimmy Jones

Johnny Mathis

John Rodgers

John Spencer (JIJ BENT VAN MIJ), Netherlands

Josh Solomon & The Empty Pockets

Judy Argo

Jukebox Junction

Kane Glaze

Ken Shaw

Landorey

Lannie Garrett

Layla Rammel

Lemmy, Slim Jim & Danny B., March 2000

The London Festival Chorale

Mark Diedrich

Mark Keeley

Martina McBride, 18 October, 2005

Mary Duff

The Mavericks (Not Fade Away, Decca), 1995

Michael Palmer (CD "Memories Of Buddy Holly), USA, 1997

Mickey Gilley

Mike Berry

Mike Berry (Buddy Holly - A Life in Music), 1999

Mike Evans

Mike Stone

The Moods

My Morning Jacket (Rave On Buddy Holly), 2011

New London Philharmonic Orchestra (instr.)

Nigel Romley

Original Hamburg Cast (Buddy Die Buddy Holly Story), 1994

Original London Cast (Buddy, The Buddy Holly Story), 1989

Original Motion Picture Soundtrack (The Buddy Holly Story), 1978

Patsy Riggir

Paul Bailey

Paul Green

Peter & Gordon (Columbia), 23 March, 1965

Peter & Gordon (Capitol), 1965

P. J. Proby, 2003

PV & The Heartbeats

Randy Gurley (abc Records Single AB-12392), 1978

Ray Hamilton Orchestra ( Instrumental )

Ray Montera

Razorbacks

Rick Nelson, (Epic), 27 May, 1986

Rick Nelson (Bear Family BCD 16682 GL – The Last Time Around 1970 – 1982)

Robson & Jerome (Love Songs)

The Rockabilly Broadway Cast

Roky Erickson

Roger Samuels

Roma Mirando Jr.

Royal Philharmonic Orchestra (Instrumental)

Runaway Express (Cadillac Dreams), March 1985 

Runaway Express (Yeah, Buddy!), Raven Records, 2000

Runaway Express (Oh, Boy!), 2004 

Schytts

Scott Baker (ScottyB)

The Shadows

Shane Cortese

Sherry Holley (Looking Through Buddy's Eyes)

Silver Trio

Skeeter Davis (Skeeter Davis sings Buddy Holly, RCA), 1967

Something Blue

Sky Sounds Orchestra (Instrumental)

Sonny Curtis (The Buddy Holly Song Book), 1992

Stan Cox

Starlite Dance Orchestra

Steinar Albrigtsen

Stephen Collins

Susan Wong, August 2007

Susan McCann

Texas Mike Bell ( Instrumental ) - ( For The Love Of Buddy )

Thomas Borchert (Die Buddy Holly Story)

Thorleifs

Tommy Allsup, Reprise, 1965

Tommy Allsup, CD " Classic Hits ", 2014

Tommy Cash

Union Of Sound

Unknown, Charly Records

Valiants

Vi Petty, 1960

Wayne Denton

William Earl

Willie Logan (The legend lives – Buddy Holly)

Zachary Stevenson
 Please note: This list was not updated after the page was created.
Additions are on my main page
https://www.buddyhollylives.info/